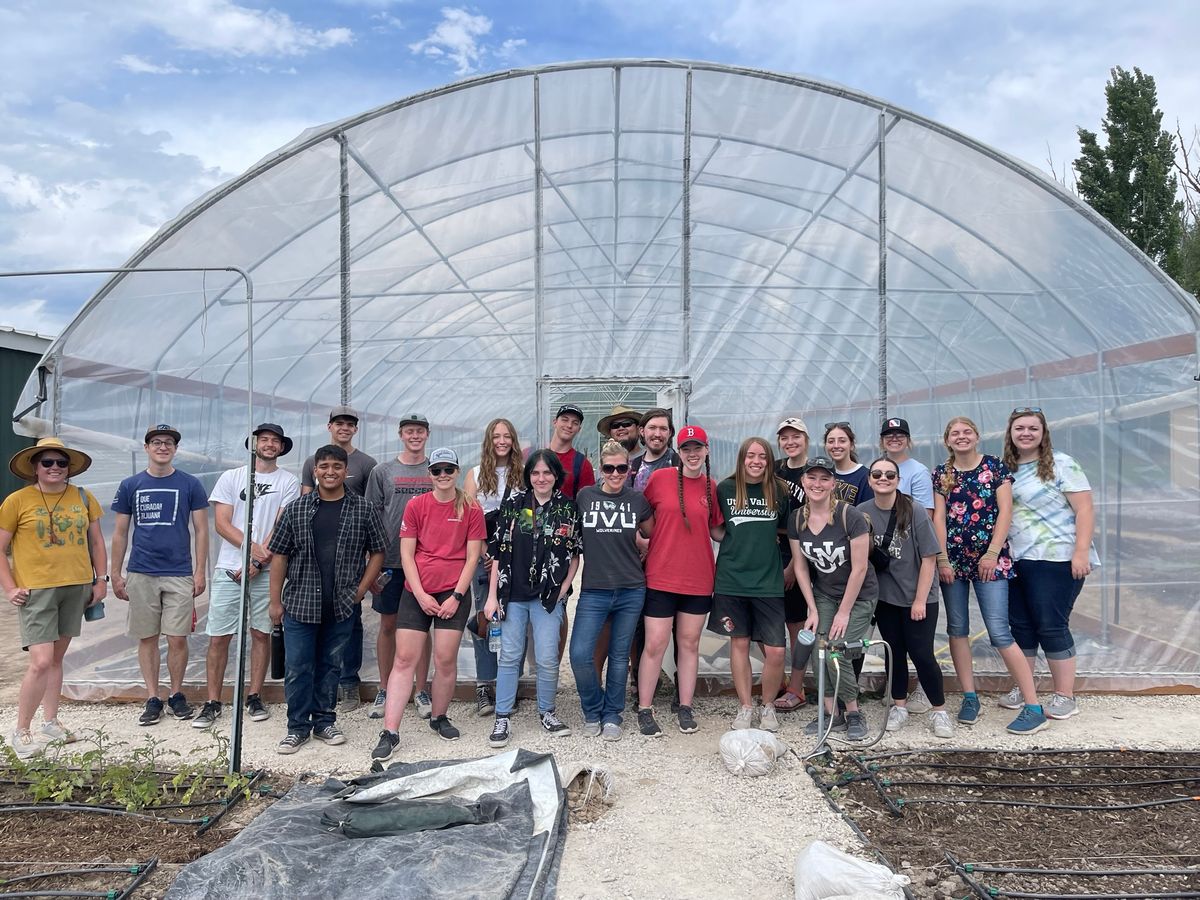 This article was written by Victoria Garcia as a part of her English 2010 service learning course. Thanks for volunteering in the garden and writing a great article Victoria!  
If you're anything like me, then you're probably a student in the middle of your academic career at UVU who knows next to nothing about on campus resources and events. And that's ok! But besides the student clubs and miscellaneous raffles that you see on Instagram stories and signs posted around campus, there is a lot more going on at UVU than meets the eye. Located on a small block of land behind the UCAS building just north of the CB building is UVU's best kept secret - the GRIT Garden. Tended to by a small hive of passionate individuals, the GRIT Garden provides opportunities for students and staff to volunteer, learn a bit about gardening, and most importantly, grow fresh produce for UVU's own food pantry. In an effort to keep the food pantry well stocked with food you would actually want to eat, UVU's GRIT Garden grows the fruits and veggies you might typically expect to see at a grocery store. But that's not what I'm here to tell you about. I'm here to tell you about the unexpected growth that the GRIT Garden cultivates; personal growth. And speaking from experience, this may be the most important crop there is.
Volunteering at the GRIT Gardening was not something I expected to do when I enrolled (late, of course) in my summer 2010 English Class, so imagine my surprise when I show up to class and start mulching for the first time ever. Led by the incredible Boston and Austin, our class and I spent the summer planting crops, pruning tomatoes, laying compost, and watching our work become a product that would feed our fellow students. When I walked into this garden for the first time, I was not happy to be there. I'd struggled with English 2010 in the past and the last thing I wanted to do after an 8 hour shift was go to an English class that wouldn't end until nearly 9 pm. But as the hour in the garden passed, I felt any stress and anxiety dissipate and by the end of our garden hour I felt refreshed and ready to learn. This kind of change in my attitude
continued with every gardening session and eventually became something bigger as I noticed my general mental health improve in my everyday life. This change wasn't only felt by me, my fellow students expressed the same kind of effect from the GRIT garden.
According to the Mayo Clinic, gardening has numerous health benefits and does a whole lot of good for you inside and out. From reduced stress levels to better eating choices, gardening is the way to go, and what better way to garden than to do so in a friendly setting that helps others. So even if you don't have the space (hi fellow apartment dwellers!), don't have the time to commit to an entire garden (being a full time student is hard!), or just don't have the funds, UVU's GRIT Garden is a great way to experience and gather some of the good gardening does for you. If you are interested in volunteering, UVU's GRIT Garden has summer volunteer hours on Wednesdays from 4-6 pm and Fridays from 9-11 am. And even if you don't have time to volunteer, you can help UVU's GRIT Garden by following and engaging with their accounts on social media. You can learn more about UVU's Grit Garden (and get some awesome gardening tips) from their website: https://uvugrit.garden/ And if you or a UVU student you know is struggling with food insecurity, visit UVU's food pantry for healthy and delicious options so you can be the student you are capable of being.